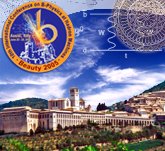 Beauty 2005

Beauty 2005


Social program:



Sunday 19, June 2005, afternoon, starting 18.30
Welcome reception at Cittadella


Monday 20, 17:00-.19:00
Guided walking tour of Assisi . Visit of some important monuments ending at the Palazzo dei Priori (Town Hall) where the Official Conference opening will take Place in the Sala della Conciliazione , recently restaured and reopend.

A reception offered by the Major of the City of Assisi will follow at about 20:00

Tuesday 21, 21:00_22:30

Concert of the world famous Assisi Choir I Cantori di Assisi conducted by M. Verde, OFM in the Basilica di Santa Chiara exceptionally granted to our conference, with organ accompaniment.

The Cantori will open the program with St. Francis words , the Canticle of the Creatures and the wish of peace , that he used to address to all who came across. The program will follow an itinerary from monodies and polyphonies of the Renaissance to polyphonic works both in the chapel and concertant forms with organ of different ages and styles, ending with sacral choirs composed or adapted by contemporary Authors.

Wednesday 22, 14:30-22:30
Trip through Umbrian hills that will bring us to Orvieto to visit its world famous Cathedral, where the paintings of Luca Signorelli have been recently restaured and reopened to the public, as well as the Underground Tunnels excavated in the volcanic rocks, also recently shown to the public.

A typical Umbrian dinner will follow at about 19:30 at the Castello di Titignano on the road back to Assisi.




Thursday 23, 20:00-22:30
The official Conference dinner will take place at the Ristorante Frantoio, at the Hotel Fontebella, very close to Cittadella.









© 2004 Istituto Nazionale di Fisica Nucleare (I.N.F.N.) - Section of Perugia
c/o Physics Department, via Pascoli, 06123 Perugia, ITALY.
Tel. (+39) 075-5847137, Fax (+39) 075-5847296 - www.pg.infn.it